This post is sponsored by Superside
Welcome to Brainy Battles
The showdown where your fav brands compete to see who markets smarter​
How it Works
We compare two marketing assets—like landing pages, ads, Twitter hooks, and more—and explain how each brand uses buyer psychology concepts to drive action

You vote for your favorite for a chance to win a prize

(worth $997)
The Battleground ⚔️
Your pricing page is a powerful sales asset.
That said, according to research by ProfitWell, most companies spend only 6 hours total on their pricing strategy. 
If you can't remember the last time you revised your pricing page and made a revision… this Brainy Battle is for you.
And if you're not seeing the conversions you'd hoped for from your pricing page… you'll also want to stick around.
In the third issue of Brainy Battles, we'll analyze: Pricing Pages.
Meet Your Fighters 💪
Your pricing pages feel the weight of the world.
They're the very last step of the buying journey. The one marketing asset every single customer has to come into contact with.
That's a pretty big deal.
No wonder brands like Picsart and Canva use buyer psychology to make their pricing pages POP.
But which brand reigns supreme? You decide!
Fighter #1: Canva Pricing Page

Canva pulled in $1 billion in revenue in 2022. 
We have a feeling they didn't make that happen by throwing together a pricing page and hoping for the best. They likely used heatmaps, A/B testing, and did in-depth customer research to figure out what their buyers' objections and hesitations were.
Let's explore some of the brainy things Canva does on their pricing page to help generate $1B.
Jobs-To-Be-Done
People don't just wake up one day and randomly decide to signup for design software. They discover Canva because they have a specific "job" that needs to get done. They may need to create a video to attract new customers, or get a quick logo and business cards for their new side hustle so they look (and feel) legit. 
By highlighting specific use cases on their pricing page, Canva reminds prospects that they're the right solution to help them get the job done. More in jobs-to-be-done here.
If you're a regular Why We Buy reader then you've heard me talk about social proof before. Why do so many brands add the company logos of their customers? Because when prospects see that big brands are already using Canva, it makes them feel confident that it's a trustworthy company and high-quality product.
Canva offers three different plans. But rather than simply listing the features of each plan and leaving prospects to wonder which one is right for them, they've cleverly framed each plan around a specific customer avatar. 
They've even built landing pages for each type of buyer (Free, Pro, Team, Education, and Non-Profit) to clearly frame Canva as the perfect solution for people like them. Smart, huh?
Today's contest is generously sponsored by Superside 🙏
Imagine this… you need a video or ad design for your next campaign, and you need it done by yesterday. The problem? There's nobody on your team to make it happen. And you don't have time to vet and hire a good designer.
So how do you get quality creative assets as soon as possible?
Amazon, Shopify, and Salesforce solve this problem by using Superside.
Superside is a design subscription service that combines top designers with technology to deliver quality design at lightning speed.
What you get with Superside:
✅ Access to the top 1% of design talent
✅ A dedicated design team—including a project manager—to make sure you always get the highest quality work
✅ Super fast—imagine submitting a design request at 3 AM and getting it hours later
✅ No surprise bills
Fighter #2: Picsart Pricing Page

Picsart is another awesome design software (they're also a happy Superside customer). But unlike Canva, which touts itself as a tool to design anything, Piscart is specifically for editing photos and videos.
Picsart's customers are design nerds (like me), so of course their website looks great. But they're also doing some very smart things on their pricing page that you'll wanna add to your swipe file. 
Let's explore it…
Picsart wants prospects to test-drive their app (with as little commitment as possible). They strategically give trial users full access to all their tools for 7 days. Picsart knows that once users feel ownership over the product, they won't want to lose access to the premium features they've come to love.
Before buyers read the pricing table, Picsart carefully de-risks their offer. By adding in copy that shows buyers can cancel at any time and don't need to commit to access the trial, Picsart makes signing up an easy yes. They answer potential objections upfront, thereby reassuring prospects that they can give it a try without fear of regret.
Humans instinctively like to follow the herd. It's why we see fashion trends take over (a.k.a how Crocs managed to make such a surprising comeback). It's also why people gravitate towards the software AND the plan everyone else is using. By highlighting the most popular plan, Picsart  nudges prospects to follow the herd and choose that plan themselves too.
Who Nailed It? 🤔
Picsart and Canva both use brainy techniques to convert more web visitors into new merchants. 
Which brand do YOU think has the smartest Pricing Page?
​Canva came out on top getting a whooping 70% of the votes.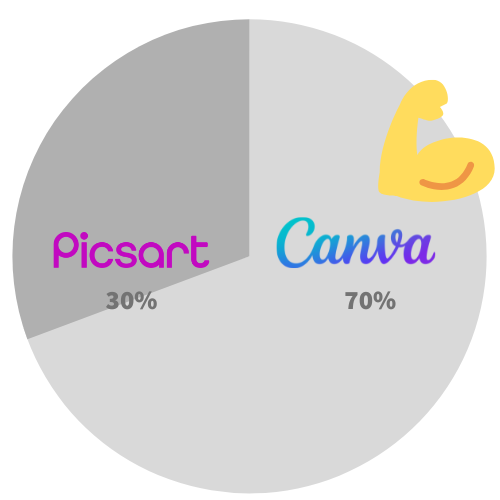 Pssssttt…
Wanna cast your vote next time?
Make sure you subscribe to our free newsletter Why We Buy.
You'll get brainy marketing tips, have chances to win cool prizes, and maybe even get YOUR business featured in an upcoming issue of Brainy Battles!
The Short of It 💥
Your pricing page is like a 24/7 salesperson for your business. It can either persuade prospects to take the leap or sending them searching for a different solution.
Smart brands like Picsart and Canva are continually optimizing their pricing pages. It takes time to do it right, but it definitely pays off.
While the Picsart team is running A/B tests, building new product features, and engaging their design community, they rely on Superside for their own design needs.
Why? Because when you're too busy to DIY, having world-class designers on call is huge competitive advantage.
Until next time, happy selling.
Pssssttt…
Wanna really get inside your buyer's head?
There are a few ways I can help:
Get explosive clarity about what works with buyers by learning how to conduct 1:1 Clarity Calls (2500+ happy students)
*NEW* Learn how to mine online reviews from real buyers to generate ideas and copy that converts (350+ happy students)
Book a 1:1 strategy call with Katelyn and get the answers you need to get unstuck and move forward with confidence
Thank you to our featured sponsors