Imagine this…
You're looking to book a hotel for your next vacation.
Excited for your first holiday in nearly three years, you narrow your choices down to two hotels. The first hotel offers two packages for the standard room:
A) $120 per night without breakfast
B) $135 per night with breakfast
The second hotel has a similar breakdown, but with a third option:
A) $120 per night without breakfast
B) $135 per night with breakfast
C) $200 per night with breakfast for the royal bedroom villa
Which one do you choose?
In today's edition of Why We Buy, we're taking a look at Price Relativity—how your product's comparison set influences its perceived value.
Let's get into it.
"Top Marketing Newsletters You Need to Subscribe To"
The Psychology of Price Relativity 🧠
Let me ask you a question… 
👉 Which of the orange circles below is bigger?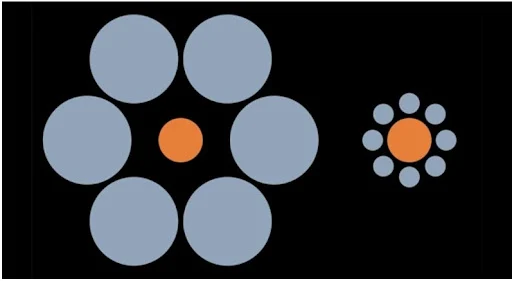 I'm no wizard, but I bet you said the right one is bigger than the left. 
The truth? Both circles are exactly the same size 😲
Herman Ebbinghaus discovered this relative size perception bias, now called the Ebbinghaus illusion. When two dots of identical size are placed next to each other, and one is surrounded by large circles while the other by small circles, the first dot appears smaller than the second one. 
The perceived size of the central orange dot is dependent on what it's compared to—meaning our brain processes visual cues in a relative manner rather than in an absolute way.  
Analyzing prices works the same way. 
Price relativity states that we don't have a fixed idea of good or bad value. Instead, the comparison set determines our perception of value—just like those two "identical" dots.  
Changing the comparison set changes the value image of a product. Price relativity allows the same price to be tweaked in a way that it appears smaller. 
Clever, right? 
Inside Your Buyer's Mind 🧐
Your buyers need context to understand the value of your product. 
Oftentimes they won't instinctively know what's a "good" price, so they'll look for other solutions—either yours or a competitor's—to use as a comparison.
It's up to you to give consumers a meaningful comparison set to examine the value of your offering accurately. 
You want to manage the perception of your product's price instead of exclusively focusing on pricing structure or actual price points.
How To Apply This 🤑
Alright, so how can we apply this right now to sell more?
Create a "Decoy" Offer
Introducing a more expensive offer can make your other products seem like a better value. This allows you to justify your prices without competing directly with alternatives. For example, a coffee company could introduce a jumbo-sized coffee as a decoy to make their regular coffee appear cheaper.
Change Your Competitive Set
If you don't strategically choose your competitive set, buyers will do it for you. Seedlip carefully positioned itself as "a non-alcoholic drinks brand" rather than as "a soft drink." Why? $34.99 for a bottle of soda seems overpriced. But $34.99 for a "non-alcoholic spirit" in a premium bottle seems fair.
Highlight the Cost of

 

Not

 

Using Your Product
You can also alter the comparison set by putting a spotlight on the costs of not using your product or service. In the ad below, Durex doesn't compare itself to Trojan—it compares itself to the cost of having a baby. A brilliant comparison that makes their product look like a bargain.
The Short of It 💥
Your buyers aren't thinking of your pricing in absolute terms. Alter the price perception to heighten your product's value to customers.
If you want to justify your prices, choose your comparison set strategically. 
Pssssttt…
Wanna really get inside your buyer's head?
There are a few ways I can help:
Get explosive clarity about what works with buyers by learning how to conduct 1:1 Clarity Calls (2000+ happy students)
*NEW* Learn how to mine online reviews from real buyers to generate ideas and copy that converts (250+ happy students)
Book a 1:1 strategy call with Katelyn and get the answers you need to get unstuck and move forward with confidence