This post is sponsored by Vouch
Imagine this…
You're mindlessly scrolling through your Instagram feed when you see a new post from one of your close friends.
They are posing outside with their significant other, and immediately, your eyes are drawn to your friend's sneakers.
You click the photo to see if they tagged the brand, and you see that the shoes are made by an athleisure company you haven't heard of before.
You decide to shoot your friend a DM and ask about the shoes.
"They're the BEST," your friend messages back. "I literally have been wearing them everywhere, and I get so many compliments!"
Your friend sends the link to the exact pair on the brand's website, and you instantly click it.
You check if the shoes are available in your size and see that they are in stock!
You add the shoes to your cart and hover your mouse over the checkout button. 
What do you do? 
In today's edition of Why We Buy, we're taking a look at Social Proof – why we take cues from others.
Let's get into it…
When you hear a buyer speak, you have the opportunity to gain even deeper insight into their priorities, pain points and the words they use to describe them.
Vouch is a video platform that allows you to collect these insights easily, for free and at scale. So you can turn sporadic research campaigns into an always-on part of your workflow.
Check out the questions Katelyn suggests to help you get closer to your customer, and sign up for free to start capturing authentic buyer research that'll help sharpen your strategy.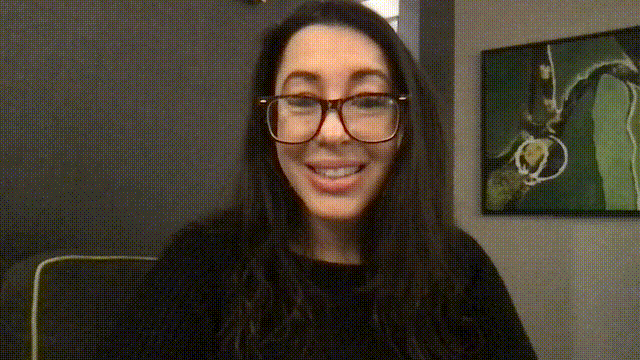 The Psychology of Social Proof 🧠
Social proof is a psychological phenomenon where people look to others to help them make better decisions or adopt the right behaviour.
When we're uncertain about what to do, we assume that the people around us (experts, celebrities, friends, etc.) know more about what's happening and what should be done.
There are 6 categories of social proof that people respond best to:
Experts

Celebrities (paid or unpaid)

Users (past and present)

Wisdom of the Crowd (approval from a large group of people)

Peers

Certification
There are likely plenty more, but these six categories can apply to nearly every industry.
Inside Your Buyer's Mind🧐
Humans are always looking for social cues to help guide our decisions so that we can fit in with our peers.
When harnessed, Social Proof can be a powerful addition to any marketing or sales campaign.
Just like a kid showing off to their mother, buyers seek approval for the decisions and actions they're taking.
Showing proof that others have bought and enjoyed your product will ease your buyer's mind. 
How To Apply This 🤑
Alright, so how can we apply this right now to sell more?
Aside from testimonials and user-generated content, there are 3 less common ways your brand can leverage social proof more creatively.
Share real, raw feedback
Buyers want honest opinions on your products — including negative reviews. Having a 4.5/5 star rating is more believable than a 5-star rating. The same applies to reviews. Sharing your negative reviews shares your humility-based understanding that your products aren't for everybody.
Instead of being fearful that people would see the negative review on this book, Dave Gerhardt highlighted it. He turned the review into a tweet that promoted his book. Sharing the raw feedback from an unhappy customer creates a realness for Dave's brand that adds trust to his image.
Show (don't tell)
Some of the most powerful social proof doesn't involve you saying anything. If you can get your customer to rave about your product without you needing to get involved you'll create a flywheel of customers that turn their friends into buyers who turn their friends into buyers…
That's a pretty sweet deal. Dickie Bush's Ship 30 for 30 cohort writing course asks all members to add a ship emoji to their Twitter profile while they're in the program. The ship acts as its own salesperson spreading the word about his writing program while his buyers do the selling for him.
Share specific numbers
Round numbers aren't as trustworthy as real numbers. Who do you trust more— the author who says they've sold 10,000+ copies of their book or the one who says they've sold 9,835 copies? Using specific numbers proves that you're not exaggerating and makes your brand more trustworthy.
Have you noticed how I share how many people are subscribed to this newsletter at the top of each edition? This is buyer psychology! I don't want to use a round number, like 16,000, because it's not nearly as powerful as using the real subscriber number.
Collaborate with experts
Invite experts to create content with you.
This will attract new audience members from their followers and position your brand as trusted by the experts (even if they don't officially endorse your product).
Andrew Huberman's podcast has risen to fame in what feels like an overnight success. He has two types of episodes: solo episodes and interviews with experts.
By bringing on highly accredited health experts, he positions his brand as trusted by some of the best professionals in the world (even if they've never listened to an episode!).
Highlight real customer interactions
Positive Tweets, emails, and blog comments from real people can be one of your best marketing assets. 
Not only can you snag great copywriting from them, but you can display them to create more legitimacy and credibility.
Swipe Files turned its entire landing page into a gallery of testimonials.
Show prospects how excited customers are to share their experience—and give yourself bonus points if you can show them sharing that experience organically online (like Swipe Files' gallery that shows tweets).

Encourage customers to create content
Asking your customers to send pictures or videos of them using your product in exchange for a special offer gives you great content to share. The technical term for this is "user-generated content" or "UGC". The untechnical term is "marketing gold."
The key to success with UGC is making it easy for people to say yes.
Don't ask your customers to jump through hoops to send their videos.
Use Vouch to make it easy for your customers to leave their video testimonials. How nice would it be to have something like this for your brand?
The Short of It 💥
The urge to get approval from our peers, friends, and the crowd can influence people to do what others are doing.
Leverage one of the 6 categories of Social Proof to ease your buyer's mind into knowing that they're making the right decision.
Be proactive and ask your customers for reviews and share their feedback publicly.
Until next time, happy selling!
Pssssttt…
Wanna really get inside your buyer's head?
There are a few ways I can help:
Get explosive clarity about what works with buyers by learning how to conduct 1:1 Clarity Calls (2000+ happy students)
*NEW* Learn how to mine online reviews from real buyers to generate ideas and copy that converts (250+ happy students)
Book a 1:1 strategy call with Katelyn and get the answers you need to get unstuck and move forward with confidence
Thank you to our featured sponsor