Imagine this…
You're driving home after a weekend camping with friends.
It's Sunday night and you've got a busy week ahead.
As soon as you get home you need to prep for your Monday morning meeting.
Your mental to-do list is growing as the GPS counts down the minutes.
You pull into your driveway and thank your friends for dropping you.
It's only after they drive away that you realize…
You don't have your keys! 😱
In a rush to leave your house you left them on the counter—and your door automatically locked behind you.
You Google "locksmith near me." You call the first number. Thankfully, someone picks up. It turns out they can be there in 10 minutes!
Happily you hang up the phone. Ten minutes isn't a huge deal.
The locksmith arrives right on time and walks up to your door. They fumble with the lock with a series of tools. To your surprise, they've got the door open within 3 minutes.
"Wow, thank you! That was so fast," you say gleefully, "How much do I owe you?"
The locksmith says it'll be $190.
Are you surprised by the price?
In today's edition of Why We Buy we're exploring the Labour Illusion – why we may value something more when we think it required a lot of effort.
Let's get into it…
"Top Marketing Newsletters You Need to Subscribe To"
The Psychology of the Labour Illusion 🧠
We might live in a short attention span economy, but we sometimes actually prefer things to take more time.
It makes us feel like we're getting our money and time's worth.
Researchers found that people searching for flights preferred a slower website that showed the available options loading on the page over the span of a few seconds.
When the flight results were instant, they didn't like the experience as much.
In another study, covered on the Nudge Podcast, participants buying a house were divided into two groups.
The first group was told that a real estate agent had spent 9 hours meticulously scouring homes to find 10 apartments that fit their needs.
The second group was told that the agent used a computer program to find the 10 homes and it only took 30 minutes
Both groups were shown the exact same 10 apartments, yet the participants rated the apartments they thought took 9 hours to find as 36% better.
It turns out buyers sometimes value effort more than speed.
Inside Your Buyer's Mind🧐
Companies thrive on selling us the fastest solutions. But that's not what buyers are always looking for.
As Phil Agnew says, "We value labour even when it's irrational."
Buyers want to know they're paying a fair amount (or got a great deal!) on a product. When something happens too fast it can make them feel cheated.
When the locksmith charges $190 to show up at your house and work for 3 minutes (plus their 10-minute drive over)… you start to calculate their hourly rate.
"That's a lot of money," you think.
Had the locksmith spent 40 minutes trying to open the door it may have felt like you were getting your money's worth.
Sometimes showing your buyers the effort that goes into an outcome makes them happier with their purchase—even when it's a bit of an illusion.
For instance, many higher-end restaurants will intentionally stagger the time between courses. Why? If the food come out too fast, we may question how good it really is.
How To Apply This 🤑
Alright, so how can we apply this right now to sell more?
Tell (and show) prospects how much work went into your product
Buyers love to know what's happening behind-the-scenes of your business. They're curious about how you do what you do and may value the end product more if they believe it required a lot of effort.
Phill Agnew used the labour illusion to increase his click-through rate by 45% on his Reddit ad. His clever optimization? Adding copy sharing how many minutes he'd spent researching marketing lessons.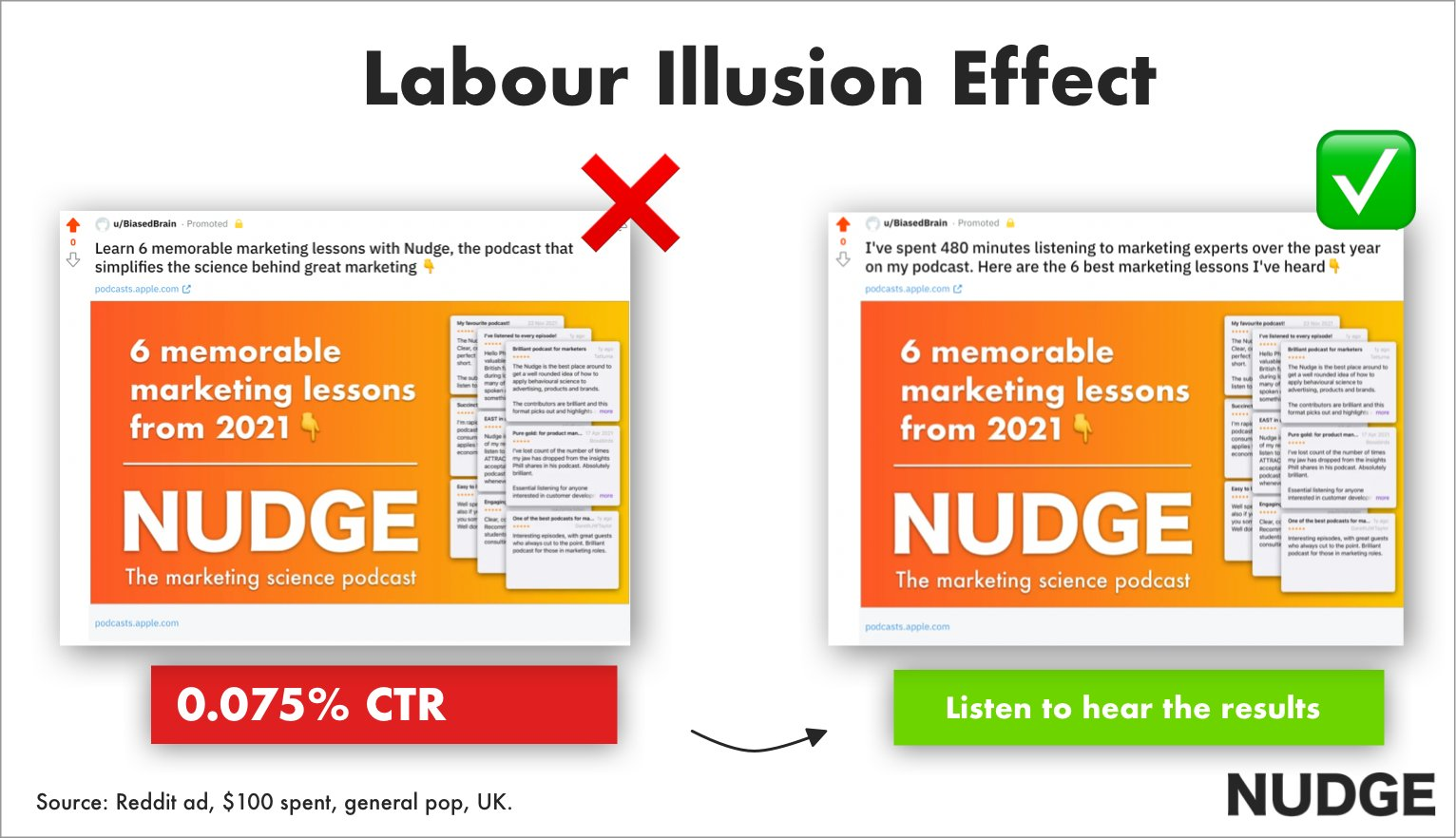 Just like the real estate agent that spent hours searching for a great home, Phil showed the effort it took to curate these lessons (and the effort his buyers don't have to take by downloading the lead magnet and getting the lessons in minutes).
Dyson also leverages the labour illusion. It took James Dyson 5,127 tries to perfect the design of his vacuum. The James Dyson Foundation created a piece of evergreen content that continues to market the labour behind his designs.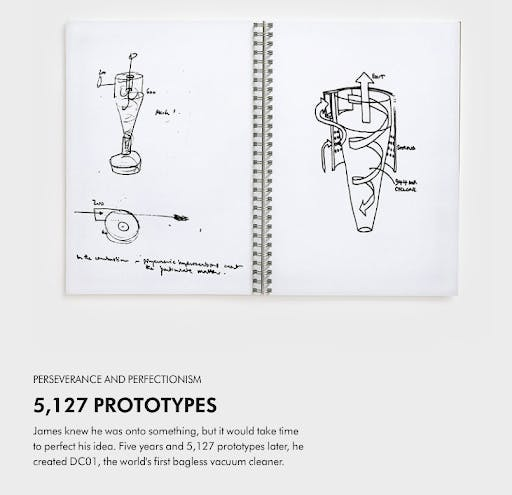 Slow the purchase process for higher-tier products
People buying a $20 planter for their snake plant don't want to jump through hoops to get it. But, buyers handing over 4-figures for a coaching program want to feel like they're getting their money's worth.
Creating a more intensive application process for your higher-tier products can help build confidence in buyers. When prospects need to fill out a 20-question form and participate in a call with your team before being accepted into a $4,000 program. they feel like you're really taking the time to get to know them (something they don't want when they're buying a new planter).
Seeing that your team is working hard to vet participants builds trust that the program will be high-quality.
Use this technique thoughtfully
We don't always mind waiting if we believe the wait will be worth it. But oftentimes we want fast—or even instant—results (and making prospects wait can backfire).
People may be happier to pay a locksmith when they spend more time replacing the locks. But they won't be happy if the locksmith says they can't be there for another 5 hours because they're so booked up.
The same goes for meeting requests. You're 21x more likely to qualify your lead with a fast response time over waiting 30+ minutes to respond. That's why Chili Piper helps B2B teams book prospects as soon as they show interest.
Sometimes it's better to let software do the truly laborious parts for you so your team can focus on serving customers faster.
The Short of It 💥
People are buying your expertise through your products. They want to save themselves time and money by outsourcing their needs to you.
Show them you're the one worth outsourcing to by proving that you've worked the hardest to create the best possible product (or piece of content) out there.
Until next time, happy selling.

Pssssttt…
Wanna really get inside your buyer's head?
There are a few ways I can help:
Get explosive clarity about what works with buyers by learning how to conduct 1:1 Clarity Calls (2500+ happy students)
*NEW* Learn how to mine online reviews from real buyers to generate ideas and copy that converts (350+ happy students)
Book a 1:1 strategy call with Katelyn and get the answers you need to get unstuck and move forward with confidence
Thank you to our featured sponsors